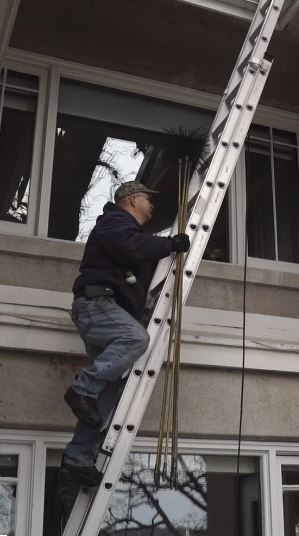 What is a chimney inspection and why schedule one?
A chimney inspection is an evaluation of the chimney or venting system to assess its condition or determine if it is fit and safe to be able to use. Your chimney is an important ventilation system that allows smoke, toxins and dangerous fumes to escape the home.
There is no way to eliminate all fire and carbon monoxide risks associated with your wood fireplace, stove or furnace; but there are certainly things you can do to reduce your risk and make heating your home safer. The most critical thing you can do is schedule a professional chimney sweep and inspection each year.
During a professional chimney sweep and inspection, you will have experienced eyes on your chimney system to check for creosote buildup, flue blockages, leaks, cracks, damage and other issues that could cause costly problems or increase your risk of fire or carbon monoxide poisoning.
The chimney sweep technician will be able to let you know about any problems they find (and quote repair) before you light a fire in your fireplace, putting your family and home in danger. Protection and peace of mind are the two biggest things that a chimney sweep and inspection gives you, that is why they are so important.
The NFPA 211 Standard states that all chimney and venting systems shall be inspected every single year, regardless of whether the chimney is used or how often. They need to be inspected for sturdiness, freedom from deposits, creosote buildup or blockages and ensure correct clearances are met.
On top of the annual chimney sweep and inspection, you should also call if you are experiencing any of the following changes to your chimney system:
When you're installing a new appliance, replacing your flue liner or changing fuel types or appliance types.
When you're having problems with your chimney system or you've noticed a change in its performance.
When you've had a chimney fire, severe weather or another significant event that could have damaged the chimney system.
If you're moving into a new home.
See "Inspections" section for other expert inspections Top Hat can provide!
Call 608-356-7268 or 608-204-7585 for pricing and to schedule your appointment today!